COURT RULES THAT MEN CAN PARTICIPATE IN CALIFORNIA'S ALTERNATIVE CUSTODY PROGRAM
---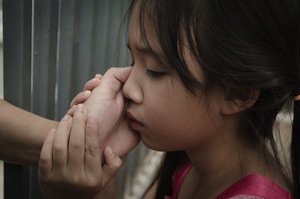 In 2011, responding to concerns about the high number of minor children whose parents were serving prison sentences, California lawmakers instituted the Alternative Custody Program (ACP) to help foster family reunification. The program provides alternative custody arrangements for inmates who have dependent children. It allows eligible inmates to spend the last two years of their sentence outside of the prison in closer proximity to their children. A California District Court broadened the reach of the program even further in a recently decided case.
THE ALTERNATIVE CUSTODY PROGRAM
When it was passed, Senate Bill 1266, which authorized the creation of the ACP, limited acceptance into the program to inmates who were:
Female, pregnant, or the primary caregivers of dependent children; and

Sentenced to state prison;

For a determinate term.
Furthermore, to be eligible, an inmate could not have:
Committed a violent felony;

A prior offense on his her record that required registration as a sex offender;

Been screened by the Department of Corrections and determined to pose a high risk of committing a violent offense; or

A history, within the last 10 years, of escape from a facility while under juvenile or adult custody, including detention facilities, camps, jails, and state prisons.
Participation in the program includes, but is not limited to, confinement in:
A residential home during designated hours;

A residential drug or treatment program during designated hours; or

A transitional care facility that offers appropriate services.
In addition to providing housing, the program also addresses the medical, dental, or mental health needs of the inmates. Treatment for substance abuse is also provided, as are counseling and job training programs.
SASSMAN V. BROWN
William Sassman, an inmate in Sacramento with two minor children, was barred from participating in the ACP which generally explicitly excluded men from the application process. In his suit against the state, Sassman alleged that such exclusions violated the Equal Protection Clause of the Fourteenth Amendment. The court agreed, stating that because the ACP is such an individualized process, categorical prohibitions based on gender were useless. Furthermore, any attempt by the ACP to distinguish male and female parental figures could only involve overly broad, and therefore prohibited, categorizations.
After ruling that the exclusion of fathers from participation in the ACP was unconstitutional, the court ordered the California Department of Corrections to immediately begin accepting applications from all eligible inmates, regardless of their gender.
Custody disputes can be complex and emotional. The situation is further complicated if one of the parties is serving a prison sentence. An experienced San Jose family law attorney can help you understand your legal options. Please contact The Law Offices of Steven E. Springer at 408-779-4700 to schedule a free consultation, in Morgan Hill, San Jose or Fremont.
Sources:
http://leginfo.legislature.ca.gov/faces/billNavClient.xhtml?bill_id=200920100SB1266
http://www.scribd.com/doc/280328007/Sassman-v-Brown-Memorandum-and-Order