GROUNDS FOR DIVORCE IN CALIFORNIA
---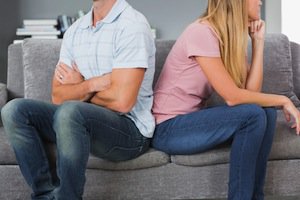 Since 1969, California has had a no-fault divorce law, which allows a spouse to file for divorce without alleging wrongdoing on the other spouse's part.
Under the law, couples in California may divorce based on either irreconcilable differences or incurable insanity. California's law was the first no-fault law in the nation. Since it was passed, every other state has also introduced no-fault provisions, and many have also abolished fault-based divorce.
FAULT DIVORCE LAWS
Prior to 1969, California's divorce law was based on fault—in order to obtain a divorce, a spouse must have proven that the other spouse committed one of the acts that constituted a basis for fault divorce. The fault-based grounds for divorce included adultery, cruelty, abandonment, substance abuse, criminal conviction and others. If a spouse could not prove fault grounds for divorce, no divorce would be granted.
Now, under the state's no-fault divorce law, there is no need to prove a specific act by a spouse in order to obtain a divorce. Instead, there are two available grounds for divorce: irreconcilable differences and incurable insanity. To obtain a divorce in California, a spouse must show one or the other of these grounds.
Irreconcilable Differences
To obtain a divorce based on irreconcilable differences, a spouse must show that the irreconcilable differences have caused the irremediable breakdown of the marriage. The differences must be irreparable, and must constitute a substantial reason for not continuing the marriage.
INCURABLE INSANITY
Incurable insanity means the permanent legal incapacity to make decisions. The spouse filing for divorce must show that the incapacity existed at the time the petition for divorce was filed, and also must show that it will continue—the insane spouse cannot be cured. Incurable insanity must be proven by medical or psychiatric expert testimony.
A divorce on the basis of incurable insanity does not relieve a spouse from any legal obligations for support of an incapacitated spouse that were imposed because they were married. Upon divorce, the court may make a support order in accordance with those obligations.
RESIDENCY REQUIREMENTS
In order to obtain a divorce in California, at least one spouse must have lived in the state of California for at least the past six months, and the county in which a spouse files for divorce for at least the last three months immediately prior to filing for divorce.
If neither spouse meets the residency requirements, they may instead file for legal separation. Once the six-month and three-month marks have been reached, they may file an amended petition, asking the court for a divorce.
If you are considering divorce, please contact a skilled San Jose divorce attorney at The Law Offices of Steven E. Springer at 408-779-4700 for a free initial consultation, in Morgan Hill, San Jose, or Fremont.
Source:
http://leginfo.legislature.ca.gov/faces/codes_displaySection.xhtml?lawCode=FAM&sectionNum=2310.