PRENUPTIAL AND POSTNUPTIAL AGREEMENTS
---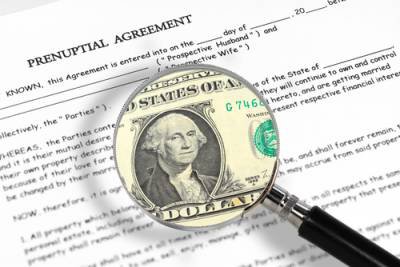 Divorce is not a term many newly engaged couples want to think about. Most couples go into marriage believing it is forever. Even in the traditional vows, you state until "death do us part." However, the numbers are in and the statistics show that not all marriages last forever as much as we would like them to. In a large number of those marriages, the two individuals are making two different amounts of income. For others, both parties have substantial assets. This is where a prenuptial or a postnuptial agreement may be a wise financial decision. In the event of a divorce without an agreement, the state of California defines what will happen between the separating parties. This agreement will allow you to dictate your own terms for your hard earned money.
In the state of California, the official name for a prenuptial agreement is a premarital agreement. This is a written contract that sets out the terms of possession of financial assets in the event of a divorce. It must be drawn up during the engagement period and the papers may not be signed for seven days after the agreement is delivered. A premarital agreement only covers financial issues including current and future earnings. You are unable to put a clause in about child care or custody. Also, marital obligations are not permitted or enforced, such as frequency of sexual relations or penalties for adultery.
A premarital agreement is only valid if it meets certain qualifications. In section 1615 of California's Uniform Premarital Agreement Act, this includes anything that the court deems relevant. However, the act outlines general guidelines:
The agreement must be signed voluntarily;

The recipient must be given full, fair, and reasonable disclosure of the property and obligations;

The signing party must be given seven calendar days to sign the agreement;

The agreement must not be unconscionable; and

Without coercion, both parties must fully understand what they are signing.
If during a divorce, a party can prove that all of these are not met, then the court may opt to void the agreement. Therefore, it is of the utmost importance that all guidelines are satisfied.
A postnuptial agreement is very similar to a prenuptial agreement. Whereas a prenuptial agreement is signed before the marriage takes place, a postnuptial agreement is created during the marriage. This generally happens if one spouse's career really flourishes or one comes into a large inheritance. Generally, the same rules of a premarital agreement are still true for a postnuptial agreement. Both spouses must be completely aware of the financial situation and assets. If one spouse can prove that they were unaware of a financial asset, the contract may be able to be voided by the court.
In the state of California, there is a lengthy list of exemptions for the validity of a premarital or a postnuptial agreement. Having a skilled San Jose family law attorney on your side will help you have peace of mind that if something should happen to your marriage, your agreement will be upheld. A divorce is stressful enough without worrying about your finances on top of it all. If you are in the Morgan Hill, Fremont, or San Jose, CA area and would like a free consultation with an experienced attorney, please call us at 408-779-4700 for a free consultation.
Sources:
http://www.leginfo.ca.gov/cgi-bin/displaycode?section=fam&group=01001-02000&file=1610-1617